---
agonia
texts
comments
members
Collections
workshop

Online Bookshop
classics
chat
photo
Literary TopSites
links
links



Recommended Reading
■ in return for your navy blue shirt
■ Spectrum
■ My life. Mother of mine
■ (half)
■ Green roots. Trampling down death by death
■ The only thing
■ In our image and our likeness
■ passage. if today
■ Us
■ Philosophia Perennis
■ Active rest with hand on the knife
■ Metaphysical guilt
■ a theory of apocalypse
■ s m i l e
■ Epistle of a millennial
■ so, listen...


Romanian Spell-Checker
Poezie - Poezii
Dictionar de rime
proza, eseuri, literatura
Literary TopSites
noutati IT, jocuri
Romanian Trends
Laptop

Contact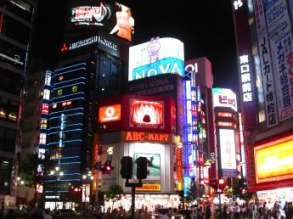 Modern National Theater
article [ Events ]


- - - - - - - - - - - - - - - - - - - - - - - - -
by Akira Touriyama [seven ]
2005-10-24 | |
Stargazing. It's not just an American phenomenon. The whole world loves watching celebrities. In Japan, celebrity status means admission to that realm of rarified air where escape from the pull of group conformity is possible. Japanese pop culture produces young stars at a dizzying speed, blinds them in the footlights, and then hustles them offstage as rapidly as it thrust them into the limelight.

So who's in the news in Nihon's entertainment industry? Here's a bulletin:

Remember Kin (Gold) and Gin (Silver), Japan's favorite twins? According to Reuters, Gin recently turned 108, spending her first birthday ever without her sister, who died last January. Kin was 107 years young at the time of her death. Kin and Gin became household names when they turned 100 and delighted the nation with their television commercials.

The summer Kabuki season has ended (but it's not too late to catch the fall performances). Young and old love Kabuki. The modern National Theater in Tokyo, puts on some fabulous theater, but don't miss the grand old Kabuki-za in Ginza where seeing the theater is almost as much fun as the watching the performance. At either location, the spectacular costumes and stylized theatrical presentations are a must!

Did you see the movie "Shall We Dance" in 1997? Yakusho Koji starred in this film as the hapless office worker who goes looking for love and finds it in his dance instructor. That was a busy year for Yakusho, who made four movies in 1997. One called "Unagi" ("The Eel") won the Palme d'Or at Cannes. These days, Yakusho is making news by starring in television commercials--one for Kirin beer and another for insurance.

Who's laughing all the way to the bank? The boys downtown--that is to say, Hitoshi Matsumoto and Masatoshi Hamada, who call their comedy routine "Downtown." They do a weekly standup comedy show called "Gaki no Tsudai ya Arahende" ("This is No Job for Kids!") but also write bestseller humor and act in TV dramas and commercials. Did I mention how they laughed all the way to the bank in 1996? A cool 500 million yen combined made them the highest paid entertainers in Japan.

As for music, jazz guitarist Kazumi Watanabe recently made the "Mainichi Daily News" by introducing a trio of jazz-fusion drummers called The Drumsco at an August 19th concert. Watanabe described their music as "high- tech, modern music."

Speaking of drummers, the mesmerizing performances of Kodo continue to thrill audiences. The annual summer pilgrimage to Sado Island for the Earth Celebration still draws thousands. According to an article in "Kansai Time Out," Kodo has performed 1900 times on five continents in nineteen years!

Another notable musician has been called Japan's King of Funky Soul. During an interview with the Tokyo online magazine, "Cool Girls Japan," Kubota Toshinobu explained how he collaborated with supermodel Naomi Campbell, a self-proclaimed talentless singer who whispered rap on his CD.

In an interview with Christopher Stephens of "Kansai Time Out," Yamamoto Seiichi explained that even though he's a central member of the rock band called Boredoms, he writes songs for nine different bands in order to express himself in a variety of musical styles.

Seiko Matsuda is one pop star who has not faded into the shadows. Now divorced and the mother of a daughter, she has remained on the charts in Japan for several years, liked especially for her love songs. "Her Cool Girls" Japan fans think of Seiko as Japan's very own Madonna.