I want to present you one of Croatia`s biggest tourist attraction: Plivitce Lakes. Revealing Plivitce means revealing a great part of Croatia, so great that if you don't see it, you haven't seen Croatia. The Plivitce Park is situated in the Central part o Croatia, located less than 200 km away from the Adriatic coast.
What is so great about this Park?
In short terms : it`s a natural jewel that consist of 16 blue and green lakes that are linked by a series of watterfalls and cascades surrounded by a lush vegetation. There are waterfalls all around. Tens of them! They are small, big, huge, noisy, silent, soft, rapid, thin and large, passing by you, above you, below you, all around you. People built paths, thin passages, that surround them from all angles. You can see a waterfall from various points of view. And the view… it speaks for itself.
The most beautiful watterfall Plivitce offers. You can pass by it, get quite wet and probably get a hearing problem, too, but it's worth it.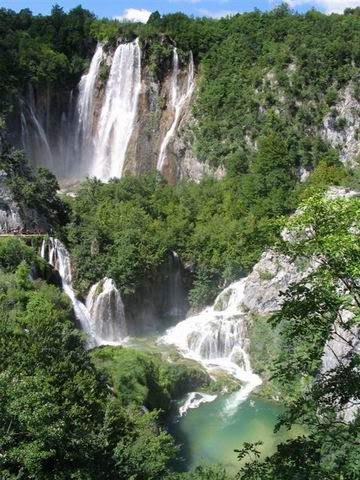 The national park extends over an area of 29,482 hectares, 22,302 of which are forests. Water covers 217 hectares. There are grassy areas and villages, too (relax, you won't be visiting the villages, you're here to see the waterfalls). There are high forests, too. They have the attributes of virgin forests.
During the millenia the water has eroded and dissolved the rocks, and that, helped by particlar species of moss, algae and dissolved calcium carbonatehas have sedimented out to create tufa or travertine, a porous stone that is being created even today in the course of echological balance (almost got lost there...) Because sedimentation takes place even today, the barriers between lakes grow and waterfalls are being created as we speak!
The Lakes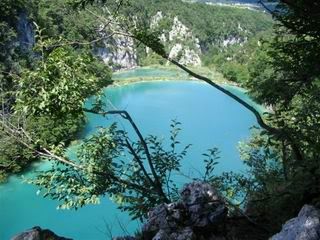 There are several caves as well and some archaeological remains. The Park contains the habitats of many species of birds, of the brown bear, wolves, wild cats, while the water is home to trout and crustaceans. No, you can`t see wolves walking around the park, nor bears or wild cats, but you can see fish. The wooden paths pass by the waters` edges and the fish come along with you. You can feed them - they know exactly why they`re following you. We spell "food" to them. They swim very fast and look very healthy. I wonder why... There are only a fiew thousand people feeding them every day.
The fish know... Everything.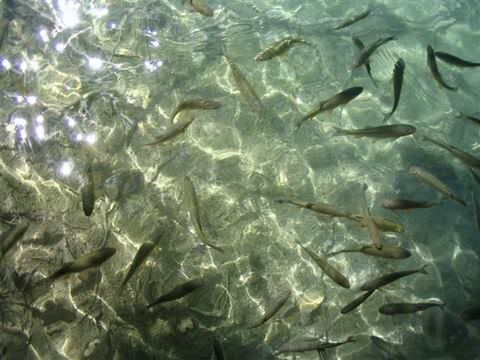 The Park is quite large and you might not be able to walk around like a hero to see everything. So, there are different itineraries that you can take, as you please. At the entrance you can buy a map of the park. On the map you`ll see marked different paths that you can follow. They have different lenghts of time (2, 3, 5 or more hours), you choose the one that suits you best, and see as much as you want to see.
I personally took the longest way (and got lost a few times, too, but that`s only because orientation is not my strong spot…) and I walked around for about 6 hours. But you don't even feel the time passing by, the view sweeps you off your feet. I saw pebbles on the bottom of lakes that looked to be 5 metres deep. I saw wonderful green and blue waters, I walked with fish by my side for hundreads of metres (I didn't have any food, they couldn't understand this aspect. I believe they were stocking me.) I saw waterfalls splashing in front of me, I saw waterfalls splashing behind me, on the right side of the passage, on the left side of the passage, above and below me. They roared or passed quitely, anything they did filled me with energy. You have to see them to understand the amount of energy this place has. Then, I got to a grassy plain where I took a small boat (100 people) and passed a few lakes to continue my journey. In the end, a small bus took us back to the main entrance. Everything was very well organised and the walk was a pleasure.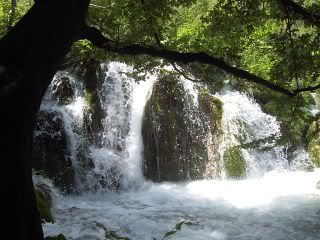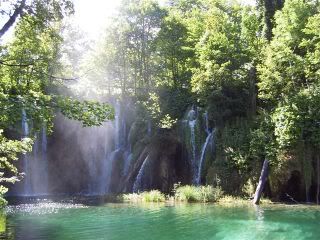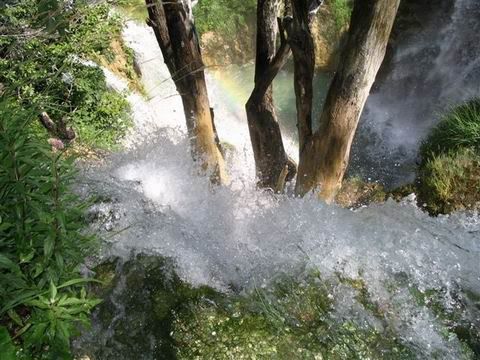 I`ll end now with my advice :
Visit Croatia