---
agonia
texts
comments
members
Collections
workshop

Online Bookshop
classics
chat
photo
Literary TopSites
links
links



Recommended Reading
■ Spectrum
■ My life. Mother of mine
■ (half)
■ Green roots. Trampling down death by death
■ The only thing
■ In our image and our likeness
■ passage. if today
■ Us
■ Philosophia Perennis
■ Active rest with hand on the knife
■ Metaphysical guilt
■ a theory of apocalypse
■ s m i l e
■ Epistle of a millennial
■ so, listen...
■ 3


Romanian Spell-Checker
Poezie - Poezii
Dictionar de rime
proza, eseuri, literatura
Literary TopSites
noutati IT, jocuri
Romanian Trends
Laptop

Contact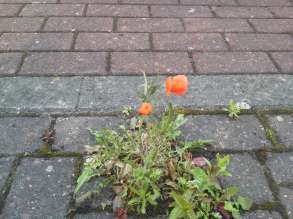 Borders to infinity...
poetry [ ]


- - - - - - - - - - - - - - - - - - - - - - - - -
by Romulus Campan [agon engromulus ]
2013-06-17 | |
Like borders to infinity,
you and I...
There to nowhere,
edges to slabs of nothing,
refrained by distance only,
alone t' each other,
with roots to feed ourselves
from one another.
The little world we nurture's dead
once leaves and flowers
now fertile bed to sorrow watered
seeds...
Planted by winds,
nothing to follow,
awaiting careful gardeners
to root us out,
unworthy, purple offerings
to gods of flesh,
of steel,
concrete and power.

Nothing to follow
each day's tomorrow...