---
agonia
texts
comments
members
Collections
workshop

Online Bookshop
classics
chat
photo
Literary TopSites
links
links



Recommended Reading
■ in return for your navy blue shirt
■ Spectrum
■ My life. Mother of mine
■ (half)
■ Green roots. Trampling down death by death
■ The only thing
■ In our image and our likeness
■ passage. if today
■ Us
■ Philosophia Perennis
■ Active rest with hand on the knife
■ Metaphysical guilt
■ a theory of apocalypse
■ s m i l e
■ Epistle of a millennial
■ so, listen...


Romanian Spell-Checker
Poezie - Poezii
Dictionar de rime
proza, eseuri, literatura
Literary TopSites
noutati IT, jocuri
Romanian Trends
Laptop

Contact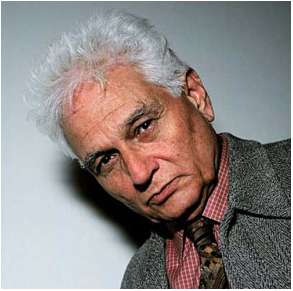 Adieu, Jacques Derrida


article [ Events ]


- - - - - - - - - - - - - - - - - - - - - - - - -
by Axel Lenn [axel24 ]
2004-10-11 | |
Born in El Biar, Algeria, on July 15th 1930 in a Jewish family, tasting anti-Semitism and oppression, Derrida spent part of his life actively fighting for many political and social causes, further inspiring human rights movements in Algeria, France, Czechoslovakia and South Africa. In 1967 he published 3 books ("Speech and Phenomena", "Writing and Difference", "Of Grammatology") establishing himself as the founder of a new school – deconstructionism – related to the more general postmodernist phenomenon. A brilliant descendent of Nietzsche, Levinas, Heidegger, Freud and Marx, he would eventually become the strongest voice articulating an extensive critique of Western metaphysical precepts.
A prolific writer on language and philosophy, paradoxically private and public at the same time, Derrida ultimately altered the thinking patterns in the 20th and 21st centuries. As one might expect, his work of undermining the very roots of Western culture functioned like a magnet for critique and controversy. Extensively portrayed as a terminator to culture, philosophy, rhetoric and literature, many times regarded as subversive or destructive for the conventional up to critical paroxysm in more or less academic debates, Jacques Derrida remained the most prominent philosopher of the day: over 45 books published and translated in more than 20 languages (including "Pour Paul CĂ©lan", "De l'esprit", "Inventions de l'autre", "Heidegger et la question", "Apories", "Du droit Ă  la philosophie", "Spectres de Marx"), subject to hundreds of books, to hundreds of dissertations and thousands of articles, following an outstanding academic career on both sides of the Atlantic at prestigious institutions such as Sorbonne, John Hopkins, UC Irvine, Yale.
No other theorist of the 20th century had such enormous an impact on philosophy, art, ethics, literature, history, law or linguistics as Jacques Derrida did. No other was as controversial on the other hand. The last of the '60s most famous thinkers (including Deleuze, Foucault, Lacan and Barthes), he used to say about himself "I am applied Derrida".
On the night of October 8th 2004 he peacefully concluded his existence in a Paris hospital. The news was scarcely reported – excelsior dixi.