---
agonia
texts
comments
members
Collections
workshop

Online Bookshop
classics
chat
photo
Literary TopSites
links
links



Recommended Reading
■ in return for your navy blue shirt
■ Spectrum
■ My life. Mother of mine
■ (half)
■ Green roots. Trampling down death by death
■ The only thing
■ In our image and our likeness
■ passage. if today
■ Us
■ Philosophia Perennis
■ Active rest with hand on the knife
■ Metaphysical guilt
■ a theory of apocalypse
■ s m i l e
■ Epistle of a millennial
■ so, listen...


Romanian Spell-Checker
Poezie - Poezii
Dictionar de rime
proza, eseuri, literatura
Literary TopSites
noutati IT, jocuri
Romanian Trends
Laptop

Contact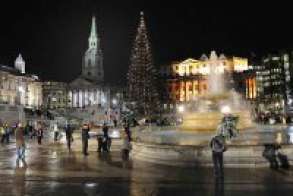 Poems in Trafalgar Square

article [ ]
Compilation: Movie and theatre reviews

- - - - - - - - - - - - - - - - - - - - - - - - -
by Gunsel DJEMAL [Djemagu ]
2009-12-03 | |
Poems in Trafalgar Square
Commissioned by the Poetry Society & Norwegian Embassy
Host: The Poetry Society

Type: Music/arts - Exhibit

Network: Global
Start Time: Friday, 04 December 2009 at 16:00
End Time: Wednesday, 23 December 2009 at 16:00






Location: Trafalgar Square
Town/City: London, United Kingdom
Description


Runs from afternoon of 4 December to 23 December

For the first time, new poems will be displayed on decorative panels around the Xmas tree in Trafalgar Square, commissioned by the Poetry Society and the Royal Norwegian Embassy.

Kevin Crossley-Holland presents a new version of one of Norway's most popular poems, Snow and Spruce Forest, by Tarjei Vesaas.

Tree Song, by Kit Wright, is based on lines, images and ideas from poems by Westminster Primary children, written as part of a project to celebrate the City of Oslo's annual gift of a Christmas tree to the people of London.

The poems will be on display from the afternoon of 4 December to 23 December.