---
agonia
texts
comments
members
Collections
workshop

Online Bookshop
classics
chat
photo
Literary TopSites
links
links



Recommended Reading
■ (half)
■ Green roots. Trampling down death by death
■ The only thing
■ In our image and our likeness
■ passage. if today
■ Us
■ Philosophia Perennis
■ Active rest with hand on the knife
■ Metaphysical guilt
■ a theory of apocalypse
■ s m i l e
■ Epistle of a millennial
■ so, listen...
■ 3
■ (in the doorway)
■ My white horse dressed in butterflies


Romanian Spell-Checker
Poezie - Poezii
Dictionar de rime
proza, eseuri, literatura
Literary TopSites
noutati IT, jocuri
Romanian Trends
Laptop

Contact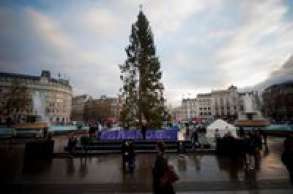 Poetry @ the Xmas Tree, Trafalgar Square
article [ Events ]


- - - - - - - - - - - - - - - - - - - - - - - - -
by Gunsel DJEMAL [Djemagu ]
2010-11-30 | |

02 December ¡ 18:00 - 19:00
Location Trafalgar Square
London, United Kingdom
Created by:
The Poetry Society, Paul McGrane
More info New poems to greet the world's most famous Christmas tree

The giant spruce tree in Trafalgar Square is celebrated in new poems commissioned by the Poetry Society. Poets and schoolchildren have been following the progress of the Norwegian tree, from the forests outside Oslo, to its arrival at the Lincolnshire port of Immingham, and onward to Trafalgar Square.

The annual gift of this iconic tree, and its message of Peace, is highlighted in poems which will be performed at the official lighting-up ceremony, and wrapped around the tree on large decorative banners.

Wrap up warm and join us in Trafalgar Square to hear the poems for the first time and watch as the lights are switched on. School children will perform 'Green Magi', a poem written by John Agard. The poem draws on lines and images from poems by Westminster, Islington and Kensington & Chelsea primary school children, written in workshops with poets organised by the Poetry Society.