---
agonia
texts
comments
members
Collections
workshop

Online Bookshop
classics
chat
photo
Literary TopSites
links
links



Recommended Reading
■ in return for your navy blue shirt
■ Spectrum
■ My life. Mother of mine
■ (half)
■ Green roots. Trampling down death by death
■ The only thing
■ In our image and our likeness
■ passage. if today
■ Us
■ Philosophia Perennis
■ Active rest with hand on the knife
■ Metaphysical guilt
■ a theory of apocalypse
■ s m i l e
■ Epistle of a millennial
■ so, listen...


Romanian Spell-Checker
Poezie - Poezii
Dictionar de rime
proza, eseuri, literatura
Literary TopSites
noutati IT, jocuri
Romanian Trends
Laptop

Contact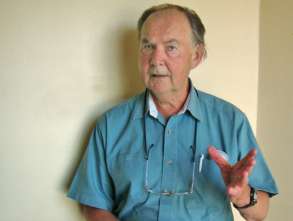 Interview with the poet William Oxley
article [ Interviews ]
Compilation: Cultural Crossroads

- - - - - - - - - - - - - - - - - - - - - - - - -
by Catalina Stefania Virvescu [caterinaivescu ]
2011-05-23 | |
- Most readers would be interested in knowing your first experiences of writing poetry. Could you tell how you started writing poems?

- Falling in love as a teenager led to my first couple of poems. At approximately the same time, I joined a Shakespearean theatre group and, in the course of rehearsing some of his plays (in which I later performed) I grew enraptured with his use of language: its poetic quality. Also, already, by this time, I was seriously reading poetry and fine literature. This led, firstly, to my making several attempts to write prose detective stories then, one day, I found myself writing poetry again and it is a habit that has never left me.

- In your poem Light from the Edge of Childhood, there is a feeling of nostalgia for your early youth years. What do you think is different now from those days?

- Light from the Edge of Childhood is really reminiscing 'in excited reverie' (to quote Wordsworth) about my childhood before I had reached my teenage years. It thinks back upon a period when I lived in a semi-rural road in which I, and a small group of children, grew into a little childhood community (of which I have written a good number of other poems). It was the post-World War Two years of fading imperial time in a place that seemed, and was, largely cut off from the wider world. Hence the romantic-nostalgic glow of its poetry.

- The poem entitled 'West' has mythology and history as themes. Do you have a favourite history epoch or character you like to write about?

- Ancient British mythology; and that of the Celts, the Nordic myths and the Greeks and the Romans has always interested me. The British myths - Celtic and British myths are always westward-looking (hence the title of the poem); and even the Nordic myths - so much associated with Iceland - record the events in the Sagas of which archaeological evidence has been found as far south as Maryland in the USA so they, too, incline Westward. For a fuller survey of my mythological interests, read my book The Cauldron of Inspiration published by the University of Salzburg Press in 1983. Even the Graeco-Roman myths came westward following the pattern of the sun's day. I do not have a favourite historical epoch or character that I like to write about.

- Experiences from journeys have been a source of inspiration to you. Is there a particular place you hold dear upon which you draw in writing?

- Several places have strongly inspired my poems of place: none more so than London, Nepal and Antibes in the South of France. I suppose any place that has inspired poetry for me I hold dear.

- In one of your poems you consider poetry a possible comfort for a terrible illness. What kind of role do you think poetry may play in people's life?

- Many people - for whom poetry is not a central preoccupation in their lives - nevertheless turn to poetry in time of trauma like illness, tragedy, the death of someone they love, etc. But ultimately one can see if one reads widely that poetry is a sort of verbal magic that can provide glimpses of an eternal understanding which, in truth, all people long for. As it says in Sanskrit scripture satyat nasti paro dharma or 'the only religion is truth'. And truth is central to poetry.

- Is the young generation still connected to poetry?

- Every generation is connected to poetry; but in every generation some people are more connected to poetry than others. Similarly, as between eras and generations (e.g. Periclean Athens, Tudor England, and the many generations making up Renaissance Italy) some are more connected to poetry than others.

- Nature is a recurrent theme in most of your poems. What kind of other themes do you prefer to approach?

- Nature occurs in a great many of my poems, but so do urban vistas so my poetry is better described as rus et urbs because I have written much about cities. I am always looking in things, ranging from flowers to flyovers, for the numinous - see my urban poem of that name in my latest collection Sunlight in a Champagne Glass (Rockingham Press, 2009). Also, recently put up on Todd Swift's website Eyesore.

- Has your vision over poetry remained the same since the beginning of your literary creation?

- My view of poetry has probably remained the same since I first began to write: poetry is a form of revelation.

- What kind of advice would you give to those who want to write poetry but they have little confidence in their gift?

- Read more and more poetry of the past and the present, and slowly, I believe, greater confidence will come.

Biography( Version sent by the author)

William Oxley was born in Manchester. A poet and philosopher, he has also worked as accountant. part-time gardener, and actor. At present he divides his time between London and South Devon. His poems have been widely published throughout the world, in magazines and journals as diverse as The New York Times and The Formalist (USA), The Scotsman, New Statesman, The London Magazine, Stand, The Independent, The Spectator and The Observer. Following the publication of a number of his works on the Continent in the 'eighties and 'nineties, he was dubbed 'Britain's first Europoet' He has read his work on UK and European radio and is the only British poet to have read in Shangri-la, (Nepal). Among his books of poetry have been Collected Longer Poems (Salzburg University Press, 1994), and Reclaiming the Lyre: New and Selected Poems (Rockingham Press, 2001). A former member of the General Council of the Poetry Society, he is consultant editor of Acumen magazine and co-founder of the Torbay Poetry Festival. In 1995 he edited the anthology Completing The Picture for Stride. The founder of the Long Poem Group, he co-edited its newsletter for several years; and in 1999 his autobiography No Accounting for Paradise came from Rockingham Press. He was Millennium Year poet-in-residence for Torbay in Devon. A limited edition print employing lines from his epic, A Map of Time, was chosen by the Dept. of Cartography, University of Wisconsin to use, with appropriate illustration, in their Annual Broadsheet for 2002. Another of his long poems, Over the Hills of Hampstead, was awarded first prize by the on-line long poem magazine, Echoes of Gilgamesh. He has co-edited the anthology Modern Poets of Europe (Spiny Babbler, Nepal 2004). In 2004, Hearing Eye published Namaste his Nepal poems, and Bluechrome published his London Visions in Spring 2005. A study of his poetry, The Romantic Imagination, came out in 2005 from Poetry Salzburg. A fine, limited edition of his Poems Antibes, illustrated by Frances Wilson, was launched in Antibes, Côte d'Azur in December 2006. In 2008 he received the Torbay ArtsBase Award for Literature. His latest collection is Sunlight in a Champagne Glass (Rockingham Press 2009). His work is featured on various websites, including, from its beginning, Anne Stewart's prestigious www.poetrypf.co.uk and www.creativetorbay.com.




| index