---
agonia
texts
comments
members
Collections
workshop

Online Bookshop
classics
chat
photo
Literary TopSites
links
links



Recommended Reading
■ in return for your navy blue shirt
■ Spectrum
■ My life. Mother of mine
■ (half)
■ Green roots. Trampling down death by death
■ The only thing
■ In our image and our likeness
■ passage. if today
■ Us
■ Philosophia Perennis
■ Active rest with hand on the knife
■ Metaphysical guilt
■ a theory of apocalypse
■ s m i l e
■ Epistle of a millennial
■ so, listen...


Romanian Spell-Checker
Poezie - Poezii
Dictionar de rime
proza, eseuri, literatura
Literary TopSites
noutati IT, jocuri
Romanian Trends
Laptop

Contact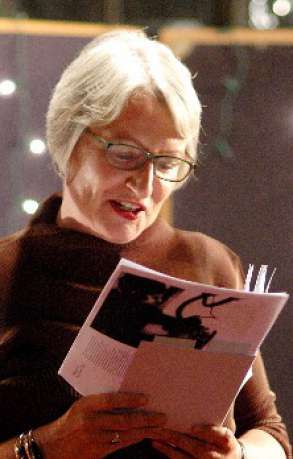 Interview with the poet Vicky Wilson
article [ Interviews ]
Compilation: Cultural Crossroads

- - - - - - - - - - - - - - - - - - - - - - - - -
by Catalina Stefania Virvescu [caterinaivescu ]
2011-05-23 | |
- When did you first start to write poetry? Was there a particular event that led you to write?
- I began to write poetry when I started a creative-writing course at the University of Kent in Canterbury, taught by Lynne Rees. Previously I had worked as a journalist and had written guidebooks to London (a new edition of one of them, London's Houses, has just been published by Metro Publications). But I wanted to see what else I could write.
During the first week of the course my mother was taken into hospital and she died soon afterwards. I took a month off work to grieve, to sort out her possessions and to arrange the funeral. During this time – as I was thinking and sorting through her things and coming to terms with my emotions – I began to write poetry. I found it very helpful as it was a way of dealing with my emotions in a more structured, analytical and ultimately constructive way.

- What does poetry represent to you?
- Writing poetry is a way of trying to understand the world, an exploration that enables me to think more deeply about things and to access the swirl of my subconscious. Reading poetry is a pleasure for its music and beauty but also often provides a surprising and new perspective on something familiar - like glimpsing your own house from your neighbour's garden.

- In many of your poems there is a strong emphasis on people. What do you find most interesting in people that makes you want to write about them?
- I find people fascinating. Mostly I write from my own life, and in observing and interacting with people I encounter my most powerful experiences.

- Are there special events that have become a source of inspiration to you?
- My daughter and my mother have both been strong inspirations. Plus other deeply emotional moments within my life.

- Is the place where you grew up present in your compositions?
- No. Mostly I write about places in the present and so I have written about London, where I lived for 20 years, and north Kent, where I am now. But I have in mind a sequence that will link London to the place where I grew up, which is a small village in the north-east of England. I have written one poem that references it, but it is more about me reaching adolescence and wanting to escape than about the place itself.

- Margate , 2010 takes one's thoughts to sunny summer days. What significance does it have for you?
- The part of Kent that surrounds Margate is a very monocultural, white British place. But Margate itself has seen an influx of immigrants from Eastern Europe as well as refugees from other parts of the world. It also attracts coach parties from London, especially members of African churches. So it is an island of multiculturalism. For me the poem tries to capture the wonderful multiculturalism you find on its beach and the way the sunshine and holiday atmosphere allow people to interact and get along together.

- What are the themes or subjects that stimulate your writing?
- People and emotions, mainly. A poem is often a way for me to express how I feel about something or to explore something I have noticed.

- When you compose poetry, do you follow a special technique?
- I usually start with a phrase or an idea - something that has struck me as interesting - and then I write around it, free writing, and see what comes up. Later I begin to try to shape it into a poem.
Recently I have also worked a lot with creating 'found poems' from interactions with the public at festivals and events - I ask them for their views on the place where they live and then create a poem from it that tries to capture that place.
- No. But there are poems that I feel are too private or personal to share.

- Have you ever withdrawn poems from publication because they no longer answer your vision? I have read that you love performing your poems. Do you have a special reason for this?
- I think that when I read or perform my poems to an audience I can make their meaning and mood clearer, make them more mine. I love the direct communication and being able to speak them in my own voice.

- Who are the writers that opened your path towards poetry?
- John Donne when I was at school. Then contemporary or recent women poets such as Elizabeth Bishop, Adrienne Rich or Sharon Olds have been very important. These are all American - among British poets I would cite Catherine Smith, Ros Barber, Jo Shapcott, Hugo Williams...

- What are your literary plans for the future?
- I have two projects on the go at the moment. One is a collaboration between four women poets and musicians on the theme of 'Daughters'. We are preparing a 90-minute show with our first performance in June. The other is a collaboration with a sculptor based around a historic house in London. The house has a strong story of an abandoned woman from the 17th century at its heart and we are using that for our joint inspiration.

Biography( Version sent by the author)

Vicky Wilson was the Canterbury Festival Poet of the Year 2007–2008 and the winner of a 2010 competition for a poem to represent the seaside town of Margate in a prestigious public art installation. Her poems have been published in her collection Line Dancing (Categorical Books, 2010) as well as in several magazines and anthologies and have been shortlisted for many competitions. She loves performing her poetry and has been a guest reader in venues around Kent and London. Her current performance project, Daughters, a collaboration with four other poets and musicians, is touring in 2010-11.
In 2009-2010 Vicky was a member of the Canterbury Laureate Squad, inspiring local writers through projects in schools and the wider community. She currently organises arts projects for Royal Opera House Education and together with fellow poet Gary Studley takes poetry to the streets at local festivals. As a co-founder of WordAid, a collective dedicated to producing books and events to raise money for charities, she has contributed to several projects and co-edited the anthology Did I Tell You? 131 Poems for Children in Need, which raised over £3000. She also works as an editor and writer in book and magazine publishing, and her book London's Houses was published by Metro Publications in 2011.







| index