---
agonia
texts
comments
members
Collections
workshop

Online Bookshop
classics
chat
photo
Literary TopSites
links
links



Recommended Reading
■ in return for your navy blue shirt
■ Spectrum
■ My life. Mother of mine
■ (half)
■ Green roots. Trampling down death by death
■ The only thing
■ In our image and our likeness
■ passage. if today
■ Us
■ Philosophia Perennis
■ Active rest with hand on the knife
■ Metaphysical guilt
■ a theory of apocalypse
■ s m i l e
■ Epistle of a millennial
■ so, listen...


Romanian Spell-Checker
Poezie - Poezii
Dictionar de rime
proza, eseuri, literatura
Literary TopSites
noutati IT, jocuri
Romanian Trends
Laptop

Contact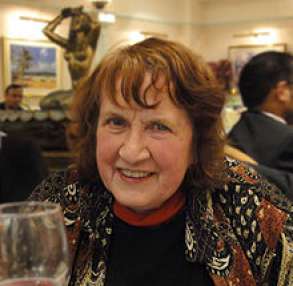 Katherine Gallagher
article [ Interviews ]


- - - - - - - - - - - - - - - - - - - - - - - - -
by Vioreanu Ioana [v.iioana ]
2011-12-14 | |
Katherine Gallagher is, in my opinion, the best contemporary writer the world has ever had. Her poems have an impressive, positive energy, the sensibility of her poems, the places that she remembers about, that beauty that she describes and her capacity to trade shoes with a child in the body of a woman made me to get her an interview.

Take-off
(after a line by Derek Walcott)


Have you seen the way the day grows
around you, neither perpendicular
nor horizontal -

open to whims, new currents,
the sky inviting banks of cloud,
stubborn vaults of air?

How it keeps you balancing
like that angel on a pinhead,
your feet facing all ways into the poem!

You follow it, you're the wind, a gale,
path escalating - you're sure
the day has you in its sights.

And you welcome it, ready
to be astonished.



Interview: Katherine Gallagher

1. Could you tell us about where you were born and your childhood? How would you characterize this period of your life?

KG: I was born in September, 1935 at Maldon, Central Victoria. Maldon is a picturesque, listed, 1850s gold-mining town, now much-visited for its well-preserved 19th century period-buildings, hooded-verandas and stone-slab streets. My great-grandfather, John Edward Gollougher, (the spelling changed later), a ship's carpenter from Donegal who deserted at Melbourne during the goldrushes, was one of Maldon's early gold-diggers. Unfortunately, though he and his partner had a claim on what turned out to be the richest mine in Maldon, they 'couldn't go deep enough/to crack the golden rib' as I celebrated him in my poem, ā€˜Maldon, Old Mining Townā€™. When the gold ran out, land hunger followed gold hunger and he, like thousands of others gave up prospecting to take up a selection, in his case, at Eastville ten miles away. This was the farm I grew up on and Eastville and its landscape are embedded in my psyche. In my schooldays, it bothered me that Eastville was on only one signboard in Victoria and also wasn't on any maps. This prompted an early poem about it for the Eastville School Centenary in 1973.
You head out there - / It's not even on the maps. / I used to wonder why / when I was a kid.
The poem celebrates the place and ends with a comment on my (1940-47) primary schooling: 'Eight years it took.' Of course, Eastville was a small place, comprising All Saints' Anglican Church, a farm-cum-post office run by my formidable Auntie Nellie, and Eastville State School. Situated about twenty-one miles from Bendigo, it was no tourist-mecca. There wasn't even a shop. It was the epitome of ā€˜the quiet lifeā€™.
Nowadays, not surprisingly, I feel rather differently about Eastville's quiet beauty, its landmark eucalypts, gentle hills and stretching skies, with Maldon and Mt. Tarrengower in the far-off haze. Also as a child, I never thought much about the long-gone original settlers who'd wandered over Eastville's grassy paddocks but it's a thought that comes to me more and more these days.
I attended Eastville's one-teacher-thirteen pupil-school until the 8th Grade (what is now Form 2). Then it was off with my sister to boarding-school in Bendigo: St. Mary's College, run by Sisters of Mercy nuns. A life of timetables, rules, tumbling prayers and new subjects, days very different from Eastville, and much busier. In better moments, we sang Masses and thundered out 'The Bells of St.Mary's'. There was a little poetry and we did study some poems by Shakespeare, Wordsworth, Browning, and a few Australians - Henry Lawson, Henry Kendall, Dame Mary Gilmore and A.B. 'Banjo' Paterson.
Everything was very syllabus-oriented. Plus Ƨa change. . .Rheumatic fever at fifteen ended my academic ambitions and I left school without Matriculation which was then the requirement for University entrance. After a few years as a laboratory assistant, secretary, tourist (hitch-hiking around New Zealand and Tasmania), typist, and studying for a University entrance exam, I started an Arts Degree in 1960, graduating B.A., Dip. Ed.in1963. What to do? Teach?? Having originally planned to be a primary teacher, I was now a trained secondary teacher and taught in two Melbourne high schools, 1964-68.
A late starter but . . .In a strange way, that's been the pattern of my life: a late-starter as a poet, late-starter as a teacher, late-starter as a parent. . .


2. You have lived in more than one country. How did these changes occur? Which one did you prefer?

KG: In my reply to the first question, I mentioned that I hitch-hiked around New Zealand in 1955-6. This whetted my taste for travel and in 1969, following an unhappy love affair, I decided to go to Europe, planning to be away only a year. Of course, Iā€™ve had many trips back to Australia since then, but Iā€™ve never lived there permanently.
In late 1971, I found myself having to think about the future and moving on. New laws affecting the rights of British Commonwealth people restricted the time they could stay in the United Kingdom. After nearly two years in the UK, I wondered if I should now go back to Australia? My brother Joe, then teaching English as a Foreign Language in Paris, said, ā€˜Donā€™t go back to Australia yet. Iā€™ll get you a job over hereā€™. The die was cast. In Paris in 1973, I met my French husband, software engineer, Bernard Londeix. Following the birth of our son Julien in 1978, we decided to come to London permanently in March, 1979. I was delighted to be living in an English-speaking environment again and have stayed here since then. Living here is our compromise: Bernardā€™s near his country and family, and Iā€™ve got the language.
Iā€™ve always tried to live in the present and so have managed to write and use my diverse experiences as an inspiration for my writing on my main themes: identity and belonging. Australia, France, England ā€" each country has offered so many experiences and joys itā€™s difficult to state any particular preference. I think this is a typical response. If I had a choice, Iā€™d like to spend more time in Australia and would be interested in doing writing residencies. A thought for the future.

At the same time, my 'roots' have always greatly influenced my work in terms of inspiration, subject-matter and audience. Even if I wanted to forget it and I wouldn't, I'm an 'Australian poet' resident in the U.K. Living as an expatriate means that one writes out of a divided identity - what I call, 'living in two countries.' Hence, my background comes into everything I write - to some extent, anyway. There's also the French connection. Sometimes I feel 'global' - a member of the World. However, Australia speaks to my deepest self. After all, I spent my first thirty years there, and have a huge family and lots of friends there, largely in Victoria. As far as audience goes, whilst my main audience is probably around the U.K. at the moment and London in particular, my Australian audience, in terms of editors and general public, is centred mostly in Bendigo, Melbourne and Sydney. The Australian poetry scene has always been most supportive of my writing.. In August-September, 2010, I was invited to present my latest collection, Carnival Edge: New & Selected Poems at the Melbourne Writersā€™ Festival and the Australian Poetry Festival in Sydney.
The women's writing network has also been very helpful. I try to go back to Australia every couple of years to see my family, friends, and other writers, and to catch up on the writing-scene. - I don't want to be forgotten. In London, I regularly attend seminars and readings at the Menzies Centre for Australian Studies which has a lively programme and introduces Australian writers over here.


3. What professions have you had?

KG: I have had only one profession ā€" for which I was fully trained, and that is secondary teaching. Earlier, Iā€™d learnt typing and shorthand, and the typing has proved extremely useful for my writing. When I was at school, there were fewer options for girls professionally-speaking; the majority tended to become nurses, secretaries, sales assistants or teachers. Nowadays I teach creative writing, particularly poetry, do consultancies, one-to-one tutorials and work with children on their poetry. Iā€™ve been judging the Barnet Childrenā€™s Poetry Competition (London) since 1992.

4. Can you tell us a few things about your personal life? Are you married? Do you have children? How did these happy events influence your poetry?

KG: As I mentioned above, I am married to a Frenchman, Bernard Londeix and have a son, Julien. These happenings, along with other events in my life, have greatly influenced my poetry and its diversity of themes. .Reviews of my books often give my view of the world. Take this from the most recent review of Carnival Edge: New & Selected Poems (Arc Publications, 2010), review by Rob A Mackenzie in Magma 49 (www.magmapoetry.com):

Katherine Gallagher has produced only four collections since her first in 1974 and perhaps thatā€™s one reason I hadnā€™t heard of her before opening my review copy of Carnival Edge. Poets who complete a book every two or three years keep themselves in the public eye. Whether most maintain a high standard and make progress between books is another matter.
Only a short sequence survives from the 1974 collection; an intriguing, fractured piece on the theme of visual perception. Itā€™s quite unlike the poems that follow eleven years later ā€" lucid, emotionally perceptive explorations, usually with a strong narrative and featuring characters moored between past and future, tragedy and hope, life and death. The struggle to move on, to make interior and physical journeys though difficult terrain, is at the heart of these pieces. In The Trapeze-Artistā€™s First Performance:
The scene is drunk on air ā€"
its nothingness
that she must navigate.
Although fears are real and nothingness an ever- present threat, Gallagher doesnā€™t view the world with hostility. Neither poet nor trapeze-artist walk alone. In this case, the audience are ā€œbalancing her with their eyes.ā€ Thereā€™s no fake, rosy picture of the world; hope comes with courageous struggle against the odds. If imagery in some poems felt too obvious, such as the kite held by dissidents ā€œbefore the eyes/ of their jailersā€ (Political Prisoners), I was impressed by how her plain, narrative poems suddenly become provocative, with far wider implications than first seemed likely, such as Girl Teasing Cat with Mouse, a disturbing domestic drama which reformats itself as a microcosm of human war:
predators, lust, the moment of no return ā€"
all spinning out of control.
And the girl knowing and not caring.
My favourite section is from the fourth collection, Tigers on the Silk Road, originally published in 2000. The first four poems are particularly strong, moving and reflective, each centring around flight, but encompassing long-distance love, bereavement, defiant celebration, and ā€" in Jet Lag ā€" the limits of human ambition:
So much for all that sky-gazing,
wanting to get off the ground.

Now Iā€™ll just sleep on possibilities.
Iā€™m still thirty thousand feet up,

nudging clouds like a sunset,
the day slipping through my fingers.

Slight poems exist in this book: those which overcook an extended metaphor (Poem for a Shallot) or stock memory (The Lesson, which explores the father-daughter relationship through a bicycle lesson). However, most avoid such dullness. A new poem, Seeing the Hand, pictures a hand flying around a beach, preoccupied with its actual history and what it might otherwise have done. It becomes the bearer of every readerā€™s past regrets and potential hopes. People who, as in the poem, initially ā€œexclaim at its strangenessā€ will find it discomfortingly familiar by the end. Ambitious sequences like After Kandinsky from 2006′s Circus-Apprentice suggest Gallagher is still on the journey of discovery and struggle her poems embody:
Let yourself believe ā€" in love, in colour, the way
it directs your eyes, treats you to sharp angles,
throws you unannounced onto each brink.
You hardly know yourself when your feet
touch ground and the colour has remade you.

Thereā€™s an irony in that itā€™s usually easier to write about unhappy themes than happy ones ā€" itā€™s the underlying tension which gives body, conflict and drama to the poem(s). On the other hand, if one is happy, then one may feel less impelled to set it down experiences in a poem.

Thereā€™s considerable information about my poetry and its themes on my website: www.katherine-gallagher.com
Also, I suggest you look up my page on Arc Publicationsā€™ website:
www.arcpublications.co.uk

5. When did you start to write poetry?

KG: I started to write poetry in 1965, directly due to the influence of The Penguin Book of Australian Verse and my then boyfriend. I was helping him with his MA thesis on Kenneth Mackenzie, a neglected Australian poet. We read from The Penguin Australian Verse but also poetry from other nationalities as well, including British, New Zealand, Russian, Chinese and American. All these poets and particularly those in the Penguin Book sparked off ideas and I said, 'I'm going to write some of this stuff.' My friend encouraged me and though our romance eventually folded, much to my chagrin at the time, there was one very important result: I had the poetry bug.
I was amazed to see how much Australian poetry had been written. I discovered Judith Wright, my 'poetry godmother' - a great poet and trailblazer; A.D. Hope, Kenneth Slessor, Francis Webb, James McAuley, David Campbell, John Shaw Neilson, and many others.
They were mostly male, of course. Women poets were only starting to write in any public way (women have always written but tended more to the novel, biography and memoir). Also, as far as would-be-poets were concerned, it was difficult to write without an existing women's tradition. I published my first poem as K.M. Gallagher but shortly after, changed my poetry name to Katherine. Later on, around Melbourne University and the Fellowship of Writers, I met or read poets such as Judith Rodriguez, Vincent Buckley, Philip Martin, Chris Wallace-Crabbe, Anne Elder, Barbara Giles and Bruce Dawe. It was very much a 'Melbourne' scene. But things were happening, and the Les Murray-Robert Adamson-John Tranter 'phenomenon' was shortly to take off bringing the lively Sydney scene into focus.
During the year, teaching kept me too busy for much poetry-writing but in the summers of 1965 and 1967, I attended two interesting seminars on Australian literature at Armidale's University of New England, in northern New South Wales. These were my first contacts with national names - Judith Wright, Thea Astley, Thomas Keneally, David Ireland, the young Les Murray who was being talked about as a poetry voice of the future, and others. At the 1967 conference, I showed Judith Wright some of my poems. She was extremely kind, told me to read widely, contemporary poetry and also those further back, specially the Elizabethans and the Metaphysicals. She talked of how in her second year at University, she'd dropped out of her Honours English course which seemed to be 'Beouwulf and more Beouwulf', and had instead used the time reading, reading - Asiatic literatures as well as European. 'Keep going, you've got something there', she said. . .words I needed to hear. For a beginner, that sort of encouragement is crucial. Besides, there were virtually no workshops then to give poets the necessary training lift-off to challenge and sustain them.
Another important step on the way to getting started was having my first poem published in 1966, in Poetry, the Australian Poetry Society's magazine. Placed next to one by the already well-known Chris Wallace-Crabbe, and called 'Life-line', it was a political-protest piece inspired by the hanging of Ronald Ryan, the last man to be hanged in Victoria. (The poem has since appeared, with several changes, as 'Poem for the Executioners' in my 'Fish-rings on Water' collection (1989) and in The Oxford Book of Modern Australian Verse (ed. Peter Porter, 1996))

A further important step in my education towards becoming a poet occurred in March 1968, when I attended a workshop led by Judith Wright and Bruce Dawe just prior to the Adelaide Festival. I'd greatly admired Dawe's work for its satire and his ability to combine the colloquial and the lyrical in an authentic, dramatic voice. He was also well-read in American poetry and introduced us to lots of James Dickey, Robert Bly and others as well as his own work. Wright also read from her poems, sometimes saying, 'I think I'd do that differently now.' At the time in my worshipful stance, I couldn't believe how she could be so 'dismissive' of some of her earlier poems. Quoting Blake, she told us that perception was the great secret.. If we wanted to be poets, we'd have to observe well. She gave us lots of haiku exercises, and talked about the absolute importance of the senses and of the 'spirit of haiku' - what has become a life-long interest.

After all that, I felt I was on my way to being a poet. Following on from my ā€˜end-of-Empireā€™ British schooling, my discovery of Australian poetry had been mind-blowing. Growing up at Eastville, I had the landscape - knew every stick and stone in some places. But now, circa 1968, almost suddenly, poetry had become my life, my way of seeing. . .
I started writing lyrics and satires, writing out of experience or on subjects I felt strongly about. Echoes of Bruce Dawe, I guess. Engaged in teacher politics and angry due to the lack of money being spent on education by successive conservative Liberal Governments in Canberra and Victoria, I fired into poetry about public issues: education, racism, and war, alongside more personal pieces - mostly love-poems - usually in free verse, occasionally, rhyming quatrains.
It's long been a tradition in Australia for young people to go overseas, so for various reasons, including the chaos of my life, it seemed time to get moving. Today, it's different. Most young people stay away only a year or two. I was one of the last of that group of sixties' expatriates who went overseas and stayed. When I left Australia in 1969, I planned to be away only a year. However, the sights and possibilities of 'Over there' grew on me, time flew and in 1971, I went to teach English in Paris. A great time. Getting the language was difficult but meeting my husband in 1974 changed everything and I came back to London with him and our young son in 1979.
Paris in 1971 had been a revelation. I was greatly influenced by the sense of sky, and the fluid beauty and detail of the city. For my poetry, this was quite an experimental take-off phase - influenced by my living for the first time 'outside' my language, by the spatial aspects of French poetry, and by the sense of a new freedom and experimentalism coming out of the Australian poetry scene.
. Anyway, in this recharged scene, I wrote a series of impressions around the 'eye' as persona, voyager. . .This became my first collection, The Eye's Circle, published in 1974 by Robert Kenny's Rigmarole Press, Melbourne.
My family: My farming family wasnā€™t particularly literary but there were a few books on the shelves - romances, biographies, thrillers, westerns. I remember my father as a voracious reader - the sort who'd start a book and finish it, even if he had to be up early next day. My mother with her eight children always said she had no time to read. Looking back, I think that was true. Both parents quoted from ballads, snippets of well-known poems and tongue-twisters remembered from school; told us folklorish stories and so on. I've found out since starting to write myself that one of my great-great uncles on my mother's side, William Rogers, was a poet. I'm fourth-generation Irish-Australian so I guess there may have been other poets in our Irish history as well.


6. Can your poetry be classified as part of a literary style?

KG: Following on from the previous question, I would say that Iā€™m a late-Modernist. As I said earlier, my life-experiences have always greatly influenced my work in terms of inspiration, subject-matter and audience. The critic Patricia McCarthy noted in Agenda magazine, that I was a strong, authentic voice, using the ā€˜Iā€™ voice in ā€˜interesting , diverse waysā€™ ā€˜The collection (referring to Tigers on the Silk Road) as a whole could be seen as an odyssey through time, continents, memory: although specific to her, anyoneā€™s.ā€™
I'm an 'Australian poet' resident in the U.K. Living as an expatriate means that one writes out of a divided identity - what I call, 'living in two countries.' See my poem, Hybrid, from Carnival Edge (2010). It begins: ā€˜I have swallowed a country./it sits quietly inside me.ā€™ And so on. . .

7. Where do you find your inspiration?

KG: I feel Iā€™ve partly answered this in my earlier replies.. My main inspiration comes through my life and travel; through observation, from being alert to the possibilities of a poem, through reading other poets, mostly contemporary, and then through having my notebook with me in order to record those impressions.
In fact, my proven working method centres around my notebook, drafting, and polishing. As I go about, I write notes - ideas or impressions in my notebook, then later add to these first notes before typing up the poem into a more-or-less acceptable first draft. After a further draft, perhaps a week or two later, I show my latest version to a couple of friends whose opinions I trust and then do a further draft and so on. In the past, from time to time, I've attended a regular workshop and have taken work-in -progress along for comments from this wider audience of practising poets. This is really useful. For a couple of years now, Iā€™ve been running a poetry group called a stanza, sponsored by the Poetry Society. Paul Valery said, 'A poem is never finished - only abandoned' and I agree with that. The writing process is ongoing and it takes time and many versions before one arrives at what seems 'finished'

8. Is there a central theme in each of your books? Describe the main theme for the favourite volumes written by you.

KG: Firstly, I love all my books and donā€™t really have a ā€˜favouriteā€™. But I am especially proud of Carnival Edge: New & Selected Poems because it contains excerpts from all of my collections.
The Eyeā€™s Circle (Rigmarole, Melbourne1974) ā€" Its main theme centred around ā€˜the eye as personaā€™. I was greatly influenced by the sense of sky, and the fluid beauty and detail of Paris. As I mentioned earlier, for my poetry, this was quite an experimental take-off phase - influenced by living for the first time 'outside' my language, by the spatial aspects in French poetry, and by the sense of a new freedom and experimentalism coming out of the Australian poetry scene thanks to the Robert Adamson/John Tranter/Robert Kenny inspired transformations taking place.
Passengers to the City (Hale & Iremonger, Sydney, 1985) ā€" My themes related back to transformations or representations of my experience ā€" travel, family, public events, always searching for the music and a new ā€˜way of sayingā€™.
Fish-rings on Water (Forest Books, London, 1989) Here the poems ranged from personal introspections to explorations of public issues: racism, war, the environment, the place of women.
Tigers on the Silk Road: In some ways, this book represented an advance in my poetic maturity: a deepening and expansion of the actual poems, exploring the themes of identity and belonging, imagining through inner and outer worlds.
Circus-Apprentice (Arc Publications, 2006) ā€" Following through on themes of identity and belonging from my previous books, plus poems based on Kandinskyā€™s Bauhaus period (1920s) and an emphasis on colour, travel, the environment, love.

Carnival Edge: New & Selected Poems (Arc Publications, 2010) This book is an attempt to gather in the threads. The internet and all the links it makes possible, plus having my own website, has greatly facilitated communications with reference to my poetry, both here and internationally.
In a sense, thereā€™s nothing new in poetry. I like the American poet Robert Frostā€™s idea that in poetry, weā€™re not trying to tell people something they didnā€™t already know, weā€™re trying to give them ā€˜the shock of recognitionā€™. Thereā€™s the challenge - . to ā€˜make it newā€™ and surprising, and like Emily Dickinson, ā€˜Tell the truth but tell it slantā€™..
One side-effect of being published by Forest Books was my becoming involved in translating. French is my only 'other' language, and in 1992, Brenda Walker, Forest's Director, offered me the chance to translate Le Somnambule aux yeux dā€™argile by Jean-Jacques Celly, a prizewinning French poet. I accepted, not quite sure what I was getting into but it was a great experience. The book, The Sleepwalker with Eyes of Clay, introduced by Peter Florence, was published in 1994. Advice as to subtleties and nuances from my French husband, alongside collaboration with Celly himself, made it a rewarding, marvellous experience. I'm a 'believer' in translations and I don't agree vis-a-vis Robert Frost's famous statement, that the poetry is whatā€™s lost in translation.ā€™

9. Which poets have most influenced you?

KG: This is one of those maddening questions impossible to answer. I think Iā€™ve answered this in earlier questions. What's 'interesting' for me in poetry? I guess I'd define it an terms of range, adventurousness, poise and sharpness of image - combined with feeling I love lyrics, either as short pieces or in sequences. By its nature, the lyric suggests a real person there in a voice that's meditative, quiet, musical, authentic. I want to meet the poet on the page. In the global world, poetry's thankfully gone global too. My favourite poets range from Australia to Britain to the U.S. and Europe. To name a few: Judith Wright, Les Murray, Gwen Harwood, Francis Webb. Robert Adamson, Peter Porter, John Forbes, John Kinsella, Diane Fahey, John Tranter, Anthony Lawrence, Philip Salom, Tracy Ryan, Fay Zwicky, W.H. Auden, Seamus Heaney, Carol Rumens, Jo Shapcott, Carol Ann Duffy, Don Paterson, Adrienne Rich, Sylvia Plath, Rita Dove, Nina Cassian, Michael Donaghy, Mimi Khalvati, Jane Duran, Anna Akhmatova, Osip Mandelstam, and Marina Tsvetaeva. But there are many others. Finally, the poem is more important than the poet.

10. What plans do you have for the future? Are you working on another book?

Yes, I have many plans for the future. Iā€™m working on another book and have about twenty poems ready. I also write poetry for children and have poems in over 50 anthologies. There are also two childrenā€™s books in preparation: one on Australian animals for the 5 ā€" 8 age range, and one for the 7 ā€" 11 age group.

Biodiversity


Lobster and telephone have found each other:
the telephone canā€™t eat the lobster
the lobster canā€™t eat the telephone.

The phoneā€™s gone kitsch, wearing
an electric-orange hard-hat,
keeping the day on hold.

Sooner or later it had to happen
that some laser-eyed lobster
would shake off one sea and find another ā€"

a stunned, air-shell ocean of voices
listening to sterlob sterlob,
lobster language

as if for the first time.



Biographical note


KATHERINE GALLAGHER was born in 1935 in Maldon, Victoria, graduated from the University of Melbourne in 1963 and taught in Melbourne for five years before moving to Europe, living first in London and then in Paris for nine years. In 1979 she moved back to London, working as a secondary teacher and after 1990, as a poetry tutor for the Open College of the Arts, Jacksonā€™s Lane, Barnet College and Torriano, London. During this time she co-edited Poetry London as well as working extensively with primary school children. She is currently a member of the Editorial Board of Writing in Education.
In 1978, she was awarded a Writerā€™s Fellowship from the Literature Board, Australia Council, and in 1981, she won the Brisbane Warana Poetry Prize. Her book Passengers to the City (Hale & Iremonger, Sydney, 1985) was shortlisted for the 1986 John Bray Australian National Poetry Award. She also writes childrenā€™s poetry and many of her childrenā€™s poems have appeared in anthologies. In 1994, her translation from French of Jean-Jacques Cellyā€™s poems, The Sleepwalker with Eyes of Clay introduced by Peter Florence, was published by Forest Books, London. In 2000, she was awarded a Royal Literary Fund Award. In 2002, she co-directed the Stevie Smith Centenary Palmers Green Poetry Festival, ā€˜Ten Days with Stevie Smith.ā€™
From 2002-8, she was Education Officer for Writers Inc and was Writer in Residence at Railway Fields Nature Reserve, Harringay, London, July-October, 2002.
In 2008, she received a London Society of Authorsā€™ Foundation Award. Her poems were featured on the A.B.Cā€™s POETICA programme, Radio National in June, 2009.
She has read her poetry at festivals and universities in the UK, Australia, France, Germany, Italy, Struga, and and her poems have been translated into French, Romanian, Italian, German, and Serbian.


| index