---
agonia
texts
comments
members
Collections
workshop

Online Bookshop
classics
chat
photo
Literary TopSites
links
links



Recommended Reading
■ in return for your navy blue shirt
■ Spectrum
■ My life. Mother of mine
■ (half)
■ Green roots. Trampling down death by death
■ The only thing
■ In our image and our likeness
■ passage. if today
■ Us
■ Philosophia Perennis
■ Active rest with hand on the knife
■ Metaphysical guilt
■ a theory of apocalypse
■ s m i l e
■ Epistle of a millennial
■ so, listen...


Romanian Spell-Checker
Poezie - Poezii
Dictionar de rime
proza, eseuri, literatura
Literary TopSites
noutati IT, jocuri
Romanian Trends
Laptop

Contact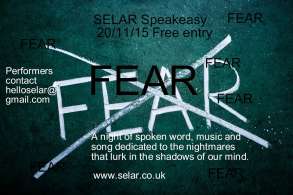 SELAR Speakeasy
article [ Creative ]
FEAR-A night of spoken word

- - - - - - - - - - - - - - - - - - - - - - - - -
by Gunsel DJEMAL [Djemagu ]
2015-11-02 | |

South East London Art Rooms created an event.
27 October at 18:02 ·

20 NOV 2015

FEAR
A night of Spoken word
a music and song dedicated to the nightmares
that lurk in the shadows of our mind.

SELAR Speakeasy
Fri 7:45 PM · South East London Art Rooms · London
Adam Brody and Michał Grzebieniak are going
South East London Art Rooms created an event.

20 Novemberat 19:45–22:00
Show Map
South East London Art Rooms
17B Dartmouth Road, SE23 3HN London, United Kingdom
Find Tickets
Tickets Available
www.selar.co.uk


Please do join us and spread the word on NOV 20th. FEAR is here. Steven Rogers Yael Biran Günsel Djemal Elüstün Eleni Mylona Joe Duggan Nina Walsh Nicole Garnier Jono Podmore Tim Wright Duncan Reekie Tal Yakobovitch Jakubowiczova William Anthony Hatchett The last speakeasy was a dream this could be a nightmare. Free entry. Money raised for The Passage Charity to help the homeless.