---
agonia
texts
comments
members
Collections
workshop

Online Bookshop
classics
chat
photo
Literary TopSites
links
links



Recommended Reading
■ in return for your navy blue shirt
■ Spectrum
■ My life. Mother of mine
■ (half)
■ Green roots. Trampling down death by death
■ The only thing
■ In our image and our likeness
■ passage. if today
■ Us
■ Philosophia Perennis
■ Active rest with hand on the knife
■ Metaphysical guilt
■ a theory of apocalypse
■ s m i l e
■ Epistle of a millennial
■ so, listen...


Romanian Spell-Checker
Poezie - Poezii
Dictionar de rime
proza, eseuri, literatura
Literary TopSites
noutati IT, jocuri
Romanian Trends
Laptop

Contact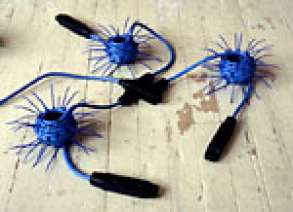 Relative / The Ottawa Art Gallery
article [ Art ]
3 November 2006 to 7 January 2007

- - - - - - - - - - - - - - - - - - - - - - - - -
by Nicole Pottier [NMP ]
2006-12-02 | |
Monika Napier
Blue Depletion Network
(detail)
Relative is a relationship, a condition of "being in terms of another being" that is reaffirmed and renewed with each new link in a chain of individuals. The resulting bonds only cease when there is no one left: remembering keeps relatives alive.
Understanding is a form of literacy, which enables us to recognize and translate signs and codes. In the Gallery, we take our cues from what is presented, but this only takes us so far. In order to engage fully, we must be willing to see the work in a relative space. This does not mean that everything must be laid bare: "relative" in this context implies a new relationship. Each meeting encompasses its own singularity. In this case, the expression, "everything is relative," seems to suggest a place in which we can make sense of it all by considering one thing in light of another. This is where relationships begin.
Since asking Monika Napier and Carl Stewart to work together on this project, I have thought a lot about "relative" and its intermingled meanings. Experience is a relative activity, creating layers of knowledge over time and transforming relationships into profound familiarity. Monika and I share a connection based on our kinship as cousins; being relatives has prompted us to think about intimate knowledge and levels of perception. This familial environment acted as a guide for open discussion and ultimately, through his participation in this framework, Carl also became "relative." In turn, the conversations between the three of us created a space to explore the interconnections between each artist's divergent practice, addressing inherent issues of gender, familial and communal relationships. Humour is integral to the work of both artists, whether finding release in a sly wink, or hovering quietly at the edges. There is darkness there too: neither artist shies away from troubling things ever so slightly to expose the deeper questions that lurk below the surface.
Johanna Mizgala, Guest Curator
Carl Stewart
Relative
3 November 2006 to 7 January 2007
Curated by Johanna Mizgala
Monika Napier, Carl Stewart

The Ottawa Art Gallery Arts Court,
2 Daly Avenue, Ottawa, Ontario K1N 6E2 Canada
The Ottawa Art Gallery