---
agonia
texts
comments
members
Collections
workshop

Online Bookshop
classics
chat
photo
Literary TopSites
links
links



Recommended Reading
■ Spectrum
■ My life. Mother of mine
■ (half)
■ Green roots. Trampling down death by death
■ The only thing
■ In our image and our likeness
■ passage. if today
■ Us
■ Philosophia Perennis
■ Active rest with hand on the knife
■ Metaphysical guilt
■ a theory of apocalypse
■ s m i l e
■ Epistle of a millennial
■ so, listen...
■ 3


Romanian Spell-Checker
Poezie - Poezii
Dictionar de rime
proza, eseuri, literatura
Literary TopSites
noutati IT, jocuri
Romanian Trends
Laptop

Contact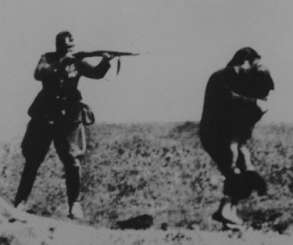 Scavenging gods...
poetry [ ]


- - - - - - - - - - - - - - - - - - - - - - - - -
by Romulus Campan [agon engromulus ]
2014-03-23 | |

I peeled myself away
from time.
Away from every little,
wicked portal of uselessness
opened between agonising trees
and falling drops of water...
I've seen the principles of physics
falling apart,
laws turning to claws,
hosts becoming ghosts,
asses turning into masses,
with hopes strangling like ropes
binding us all to altars
emptied every morning
by scavenging gods of hunger...

Mothers in the end, and all the brothers,
will have been left like many others,
about whom no one bothers
anymore...