---
agonia
texts
comments
members
Collections
workshop

Online Bookshop
classics
chat
photo
Literary TopSites
links
links



Recommended Reading
■ in return for your navy blue shirt
■ Spectrum
■ My life. Mother of mine
■ (half)
■ Green roots. Trampling down death by death
■ The only thing
■ In our image and our likeness
■ passage. if today
■ Us
■ Philosophia Perennis
■ Active rest with hand on the knife
■ Metaphysical guilt
■ a theory of apocalypse
■ s m i l e
■ Epistle of a millennial
■ so, listen...


Romanian Spell-Checker
Poezie - Poezii
Dictionar de rime
proza, eseuri, literatura
Literary TopSites
noutati IT, jocuri
Romanian Trends
Laptop

Contact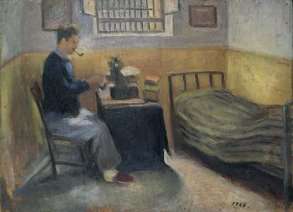 When your mind is in the wrong place...
article [ Society ]
-short essay on Nazim Hikmet-

- - - - - - - - - - - - - - - - - - - - - - - - -
by Romulus Campan [agon engromulus ]
2013-01-07 | |
"at the age of fifty found his mind in his heart"
Nazim Hikmet

How strange... Of most people it would be expected to have been mentally settled by the age of fifty; how wrong...
I have found my introductory quote within the opening thoughts of an -until now- unknown (for me) Turkish writer's "Don Quixote"...
Fond of Cervantes' Don since my windmilled childhood, it wasn't though the lone rider's quest for Dulcinea which struck my senses -as I have found my own, two decades ago-, but Hikmet's absolutely elemental statement, which at the beginning of this 2013th year of my becoming half a century old/young, bears a rather stormy significance...

It's been a week before Nazim Hikmet's passing away on the 3rd of June, 1963, when I came into a world from which he was about to leave... If I would have known everything he knew at the time, I would have rather stayed... My mother's womb's darkness would have been a better place to die than this despicably hopeless world, made just a bit more bearable by my Dulcinea and our four love buds...

Nevertheless, it's Hikmet's own discovery which bought me on my own writer's knees, realising that it might not be long before being too late of using my mind from the place where it always should have been...

Oh, for long have I been seeking understanding from a place bearing nothing else than about 1,5 kg of fat-like tissue, good enough to add up the groceries and play with quantum physics, but uselessly hopeless when it comes to understanding why some idiotic "celebrities" never seem to understand that the problem with helping the "third world's" starving children is not only the small quantity of candy bars they are offering in front of heavy-cash paying paparazzi's, but the shamelessly shining Rolex watches on their "charitable" hands...

I've always been a leftist, genuinely believing that socialism, stripped of its parasitic "leaders", is a much better option than the so called "democracies" where "vox populi" is just the number of votes needed every four/five years by an elite ruthlessly playing the usurped "vox Dei" on their behalf...

In fact, about 25 years ago, I was advised to quit a political school I just begun, because of an essay in which I wrote a critique of Romania's "Animal Farm"-type socialism, based on heart-felt and yes, wept over memories of Engels' "The Condition of the Working Class in England", which I have read when I was about thirteen...
Of course, I was totally convinced, as I am today, that it's not philosophy to blame, but it's poor grasp and (mal)practice in a world where -more or less political oligarchies- have long taken over all aspects of life, to their own mercantile interests...

Back to my mind...
It's hard to have found it's real place, when I wasn't even aware of what "mind" is, and even less what "heart" is, acting on a rather instinctive range of ethics, spreading from personal to herd...

Well, it looks it's going to take another -hopefully more than just a- few decades to learn how to properly use my newly found software in its newly found hardware...
Oh, but which is which?
Uh, the min(d) is the soft(ware), because it's min(e), and the h(e)ar(t) is the hard(ware) because it's very har(d) to find it in the first place...
But then, why should be something which is mine, soft?
Is it just because it's made of soft, fatty myelin?
Derp...

How long, and what will it take to learn Hikmet's value of one's every moment of good so scarcely left to him in this life?
Without claiming much similitude with his tormented existence, I've fled my homeland because the "gentlemen" of the day were just the "comrades" of yesterday, pathetically painted over, and some people started to accidentally fall into allegedly malfunctioning elevator pits...
Yet I still haven't learned -how could have I, with a misplaced mind- the true value of even the smallest good given and still with me, even if only "until evening"...

I can't do any better for now than hope to have found at least some... hope after all, by quoting Nazim Hikmet's verses from his "After Release from Prison":

"Who's lying at your side?
Not loneliness, but your wife,
in the peaceful sleep of an angel.
[...]
What time is it?
Eight.
That means you're safe until evening.
Because it's the practice of police
Never to raid homes in broad daylight."

| index