agonia
texts
comments
members
Collections
workshop

Online Bookshop
classics
chat
photo
Literary TopSites
links
links



Recommended Reading
■ (half)
■ Green roots. Trampling down death by death
■ The only thing
■ In our image and our likeness
■ passage. if today
■ Us
■ Philosophia Perennis
■ Active rest with hand on the knife
■ Metaphysical guilt
■ a theory of apocalypse
■ s m i l e
■ Epistle of a millennial
■ so, listen...
■ 3
■ (in the doorway)
■ My white horse dressed in butterflies


Romanian Spell-Checker
Poezie - Poezii
Dictionar de rime
proza, eseuri, literatura
Literary TopSites
noutati IT, jocuri
Romanian Trends
Laptop

Contact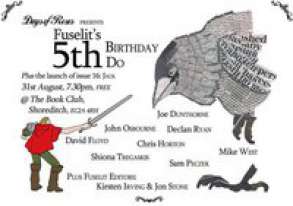 Days of Roses: Fuselit 5th Birthday Do
poetry [ ]
Public Event

- - - - - - - - - - - - - - - - - - - - - - - - -
by Gunsel DJEMAL [Djemagu ]
2010-08-13 | |
Time:31 August · 19:30 - 23:30
Location:The Book Club, Shoreditch
Leonard Street, EC2 4RH
London, United Kingdom
Created by:
FuseLit & Sidekick Books
More info Also launching Fuselit's 16th issue: JACK!

Editors Jon Stone and Kirsten Irving read from Fuselits old and new, plus readings from Joe Dunthorne, John Osbourne, Declan Ryan, Chris Horton, Shiona Tregaskis, David Floyd, Sam Peczek, Mike West and Sarah Hesketh.

Do come and help us cut the cake!